Immunotherapeutic Strategies in Skin Cancer
2022
Harvard Dermatology Resident Lecture
Learning Objectives
To review immunotherapeutic strategies in cutaneous oncology
Provide an overview of relevant immune therapies in skin cancer
Discuss relevant immune pathways
Overview of Immunotherapy
The term "Immunotherapy" is a broad term. In the context of cancer represents a set of therapeutic strategies designed to enhance anti-tumor immunity. The approach dates back, at least, to 1891, when William B. Coley, a sarcoma surgeon at Memorial Hospital in New York, injected strepotococcal organisms into a patient with inoperable cancer. Immunotherapy in the setting of cancer is also referred to as Immuno-oncology or "IO"
Current IO Strategies
Today, a variety of approaches exist, for example:

Cytokine directed therapy

TLR agonism

Immune-checkpoint blockade

Oncolytic viral therapy

Bispecific T cell engagers
Chimeric Antigen Receptor (CAR) T cells

Tumor Infiltrating Lymphocytes (TILs)
Case 1 - HPI
Male in the 8th decade of life

Presents with a 2.8 cm poorly differentiated peri-orbital CSCC
Outside PET-CT showed no evidence of regional or metastatic disease

MRI demonstrated:
T1, pre-contrast image (used with patient permission)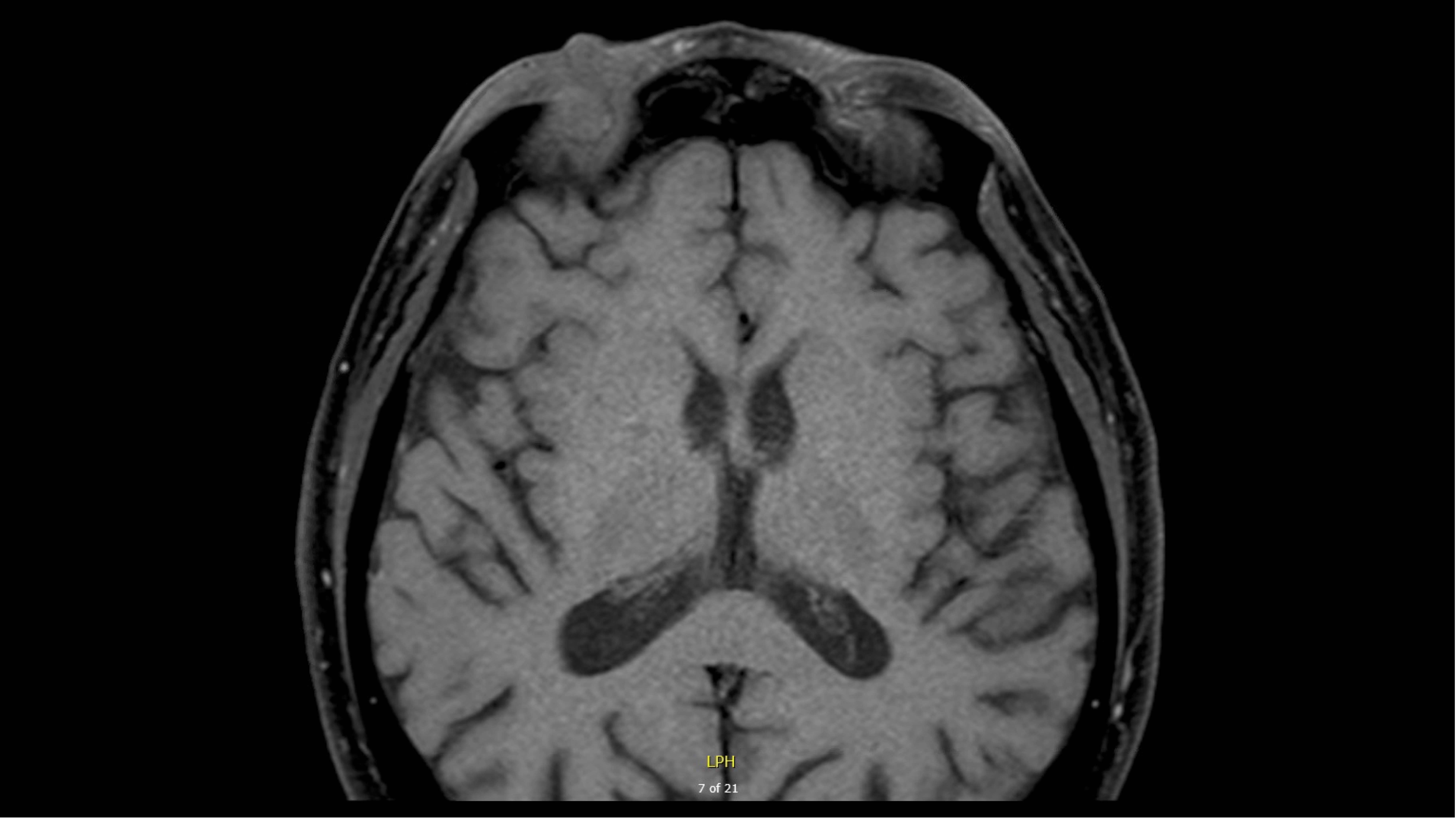 T1, pre-contrast image (used with patient permission)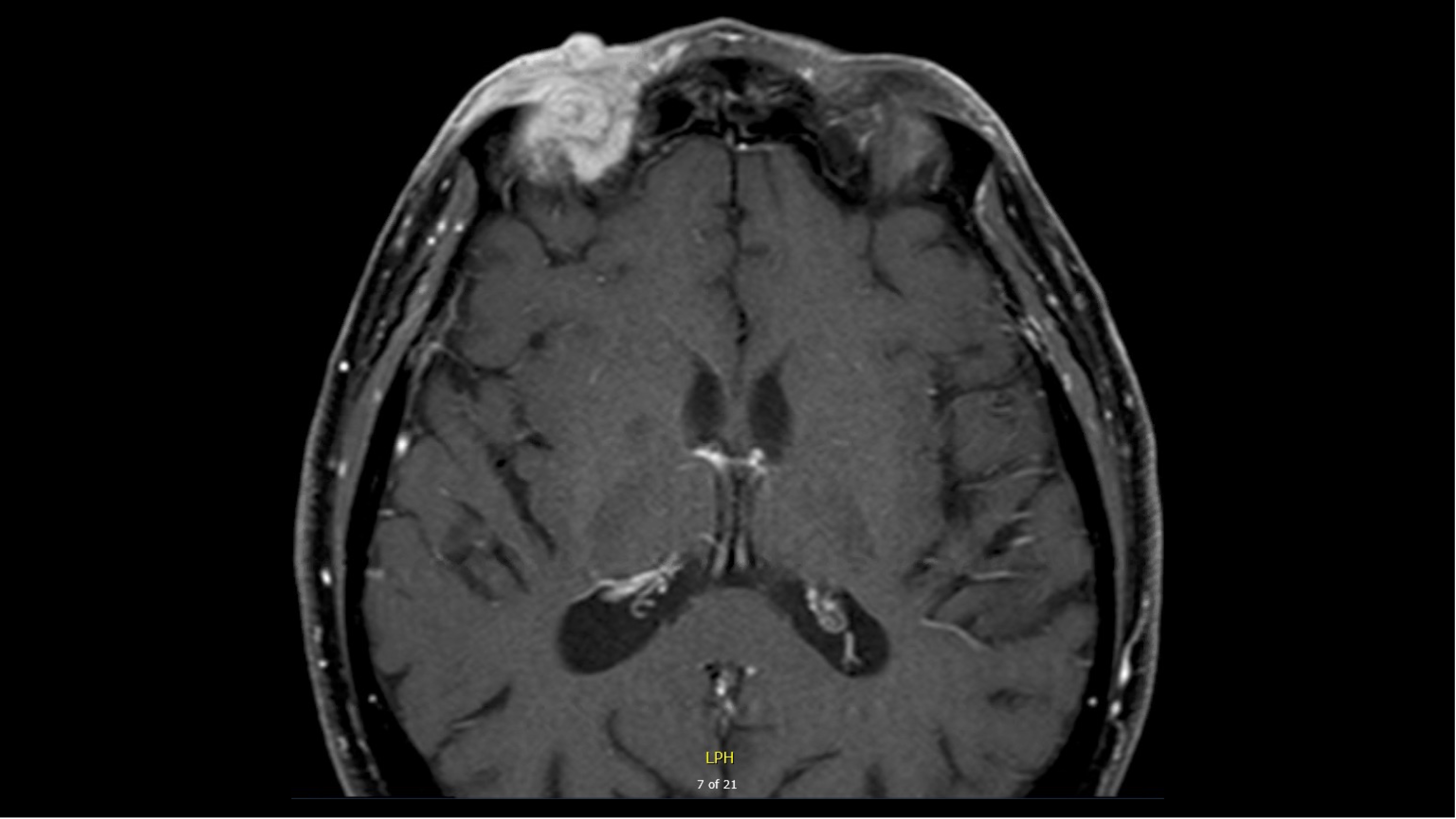 How would you manage this patient?
Overview of FDA Approvals in Skin Cancer
The landscape of FDA approvals for skin cancer has evolved prominently since the first therapeutic - nitrogen mustard - was approved 1. Below is a graph of all 133 of the FDA approvals in skin cancer (as of 08-15-2022).
In keeping with the diverse mechanisms that give rise to cutaneous malignancy, there are a heterogeneous group of drug therapies used to treat skin cancer, which includes cytotoxic agents, targeted therapies, and immunotherapies.
Focusing on only those therapies with predominantly immune-directed mechanisms, narrows the list down to 51 FDA approvals in skin cancer
To see an interactive visulation of the above graph click here
Case 1 - Managment
As the above graphic depicts, there are two distinct therapies approved for locally advanced CSCC (the stage of disease in Case 1): Cemplimab-rwlc and Pembrolizumab. Both are PD-1 mAb with approvals for laCSCC and would be part of the discussion in management of a case as presented in the first vignette.
Background on Immuno-Oncological Strategies
Overview
Immune-directed therapies (cytokine therapy, immune-checkpoint blockade, oncolytic viral therapy and cellular therapy) have revolutionized the care of patients with high-risk and advanced melanoma. We will discuss the application of these strategies in greater detail during the lecture, but we'll provide a very basic primer of T-cell activation and immune checkpoint blockade below.
T-Cell Activation
T-cell activation results from the summation of several activating signals (Below Figure). These include stimulation of the T-cell receptor (TCR) by an antigen complexed with the major histocompatibility complex (MHC) and CD28 by CD80 or CD86 (CD80/86). Of note, MHC class I molecules activate CD8+-T cells, while MHC class II molecules are recognized by CD4+-T cells. T-cell activation and function are tightly calibrated by regulatory mechanisms to prevent autoimmunity and excessive tissue inflammation. T-cell activation is negatively regulated by CTLA4, which not only competes with CD28 for CD80 and CD86, but can also transmit inhibitory signals that attenuate activation. In peripheral tissues, ligation of the program death-1 (PD-1) receptor by PD-L1 inhibits effector functions of T-cells. PD-L1 is expressed on both antigen-presenting cells, such as macrophages, and malignant melanocytes.
Immune Checkpoint Blockade
Monoclonal antibodies directed against CTLA-4 (e.g. ipilimumab), PD-1 (e.g. nivolumab and pembrolizumab) and PD-L1 (e.g. avelumab and atezolizumab; of note, neither of these last two are approved for melanoma, but they have labeled indcations for other malignancies) can overcome intrinsic immune checkpoints by licensing tumor-specific T cells.2